Save the Trees Working Day ~ Saturday 30 August 2008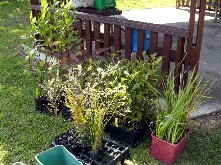 Here we are on the last day of August for another 'Save the Trees Day'!

Yet again we letterbox dropped around 400 homes in the area, rang and emailed radio stations, put signs up all around the district - on lamposts, signs, stray dogs...

We also nicked one of mum's sheets and painted a HUGE sign which we hung at the park itself next to the big Council yellow sign that said 'Bushcare here this Saturday'.
We even had a story printed about it in the local paper...and they managed to put it in two places.

We had advertised goody bags for the kids and a free BBQ lunch and drinks...

Not only that...but we had Channel TEN News coming to film us!!!!

So you would have thought that people would have got the message!

Well, unfortunately not. This time there were 22 of us. Taking away our family, friends and neighbours, that left just 4 couples who responded to our massive media frenzy.

It'd be pretty soul destroying if it wasn't for the fact that our small happy bunch worked very hard indeed - even the kids. We cut and slashed privet, cleared huge tracts of jungle, uncovered the waterfall and planted some lovely Christmas Bush and gum trees.

Our mad neighbours (yes, that means you Geoff and Richo!) were getting a bit carried away. They thought it was so lovely down in the bush, they could put cable TV down there, watch sport and drink beer! I don't think we'd ever deserved a BBQ more than at this point. The contractors that our Council had sent to help us were absolutely brilliant and taught us all heaps as we worked.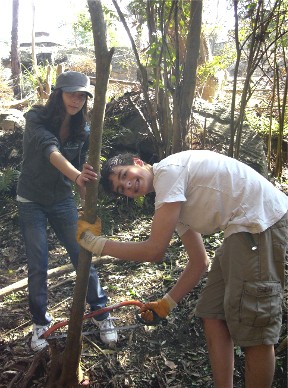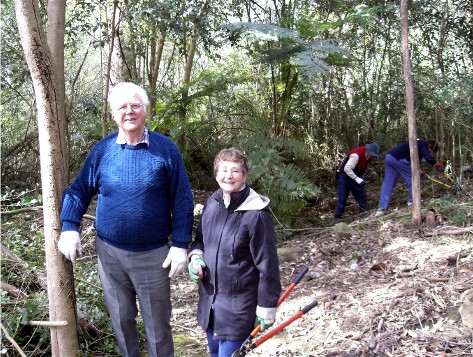 We enjoyed our cold drinks, sausages and a chat. The best bit was looking at all the work we'd done and remembering how bad the privet used to be.

We're not sure what we can do to get more people to come along....any suggestions?

A BIG thank you to the following: Kathleen Milne, Ramesh Lala, Frank and Dee Cranwell, Meena and Shelley Somi, Donna and Blake Evans. Our friends Courtney Knight, Natalie Tridgell, Meiling McGregor and Kieran Bramich. Our friends and neighbours Richard, Wendy, Thomas & Jennifer Plunkett, Geoff Craig and Felicity Lambkin. Not forgetting Helen, Rafiq at Baulkham Hills Shire Council, and all the bushcare volunteers who collect the seeds, plant them and grow them into the lovely plants that now live in Elizabeth Chaffey Reserve.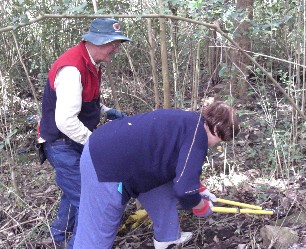 Also, an especially big thank you to Mr Tridgell who came early with his mighty chainsaw and helped us cut a path through a load of fallen trees so we could plant safely.

Want to know how satisfying cutting down privet is? Then join our next working day in Elizabeth Chaffey Reserve. Email us: theteam@planetpatrol.info. We'd love to see you there.

Scroll down to see more pictures of our day...