Sydney Royal Easter Show
Versus
England's Royal Show!
An interesting start to the day!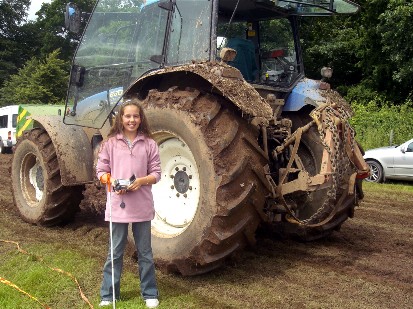 Each year on the opposite sides of the world are two shows. One is held in Sydney called 'The Royal Easter Show' and the other happens in the British Midlands and it's called 'The Royal Show'.

Whilst we were on holiday in England, we decided to check out the Royal Show at Stoneleigh in Warwickshire.



Our turn to be towed!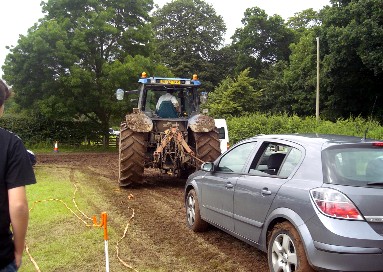 Shire teams pulling drays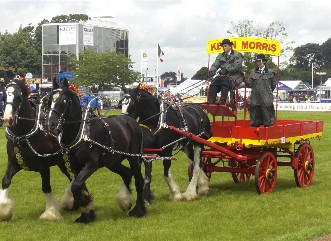 Although the weather was a little overcast, it was brilliant fun. Mostly for all the wrong reasons. We zipped along the motorway to Stoneleigh and then ground to a halt for over an hour just outside the gates! Mum made a few phone calls because no one was looking after the traffic (this we learnt is common in England!)



Posh shops you can enter with your muddy wellies on!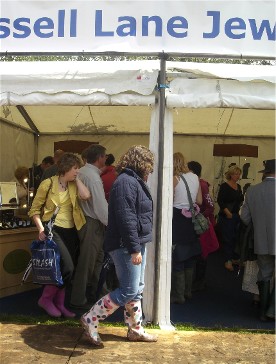 Jubilee Strawberries..best in the world!
We found out that the problem was because instead of parking elsewhere and bussing people in (which would be sensible!) they were still allowing cars to park in a field which was 3 foot deep in mud! So each car that entered got immediately bogged and had to wait to be towed in by a tractor...madness! So we just took our turn to get our little hire car dragged into the carpark by a tractor because it was so muddy and boggy along with every other car there).



We learnt the sad facts about beef farming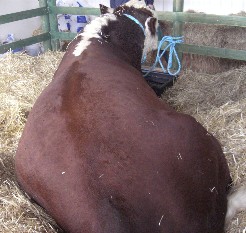 Once we'd swam through the mud of the field, we headed over and had a look at some of the animals. We saw these gorgeous cows that kept trying to eat our raincoats and these ginormous pigs!

They had sheep competitions, egg contests and so many quirky stalls selling animal things and farming devices and Freya bought a pair of slippers with horses on.



Milking a 'cow'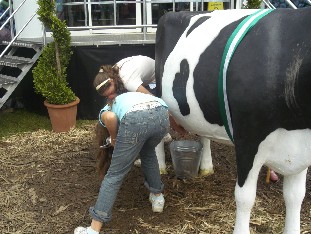 There were so many stalls that were showing new farming technology and livestock improvement. There was tractor parades, Shire horse shows, showjumping, sheepdog trials, tug-of-war in the Grand Ring. Near the back end of the place, there was food, wine and flower stalls and we found some beautiful strawberries called Jubilee strawberries - these are THE best strawberries in the world.



We spoke to some lovely farmers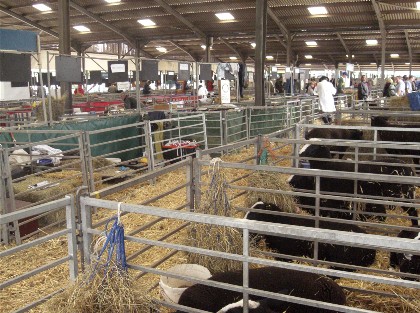 They were also selling clothing, jewellery, accessories, shoes, paintings, crafts, furniture and things like soap and honey. There was also a variety of displays including ferrets and gundog training, shooting, archery and quad-biking.



Did we mention it was a bit wet!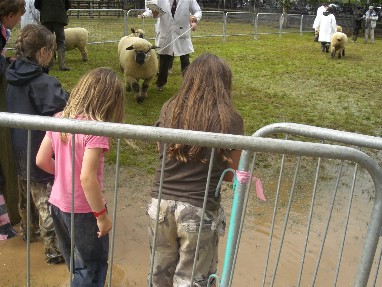 I can't tell you how much there was to do there! Even though it was muddy and raining, there were loads of people who were all very sensibly wearing their wellies (Wellington boots).



Handsome thing!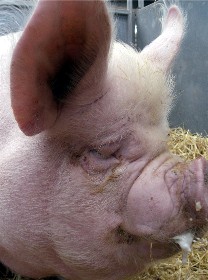 The people on the stalls were really interesting to talk to about where the cheeses came from and how they grew or made all the local produce and items. The rain and mud didn't stop anyone enjoying themselves - in fact it just made everyone laugh even more!



An old British craft - making bee hives from straw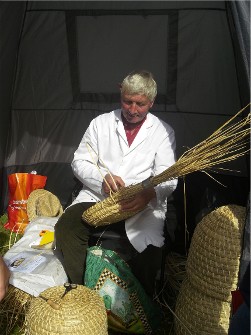 Our favourite...the noble Shire horse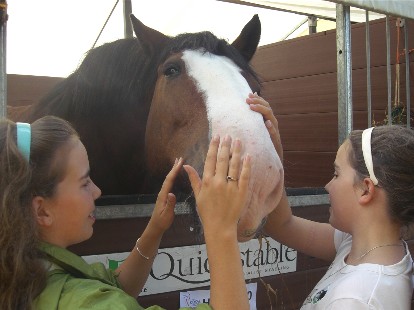 So off we went to Homebush (near Sydney) to go to the Easter show. It was a lot more spread out than the Royal show (and a lot sunnier!). Parking was dead easy and there was lots of people on the roads leading up to the Show making sure everything flowed (score one to Sydney!)



Here's a Llama, there's a Llama...etc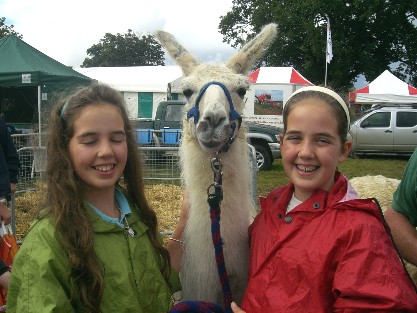 The car park - English style!!!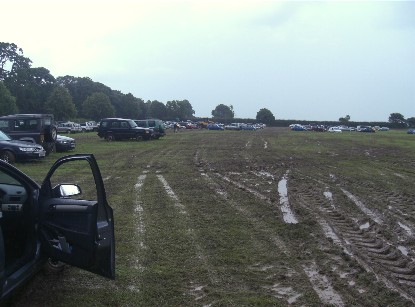 We did mention it was a bit wet didn't we?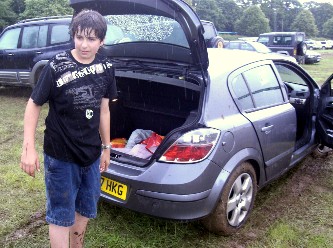 Our shoes all got the special 'Uncle Mick' powerwash treatment later!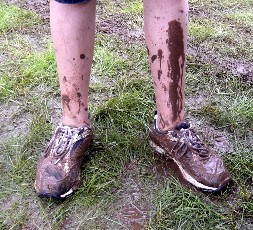 Back in Sydney later in the year, we decided to visit the Sydney Easter show and see how it compared to the UK version.



Decorative fruit & veg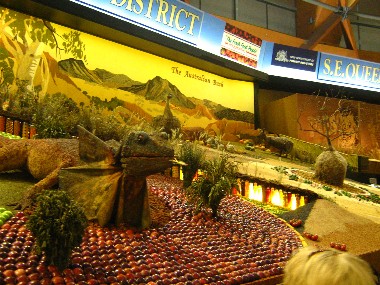 It was a baking hot day and was a very different experience to the English Royal Show. There were animals like sheep, pigs, cows and horses, but nothing like the massive range of all the different breeds we saw at the UK Show.



Everyone was hot and bothered!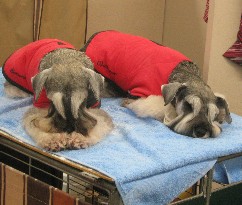 In Sydney, you couldn't really get close to the animals whereas in England, you could wander around patting and stroking everything and have a great chat to all the farmers. The farmers at the Easter Show really weren't interested in talking. However, there was a couple of lovely horse people who took the time to talk to us. Both of them worked with Shire horses.

There were very few stalls that were quirky or had real craftsmanship like the ones we saw in England. Sydney mostly had stalls that sold things like showbags, t-shirts, merchandise for companies and even coloured contact lenses. You may as well had gone to the shops!



The bike show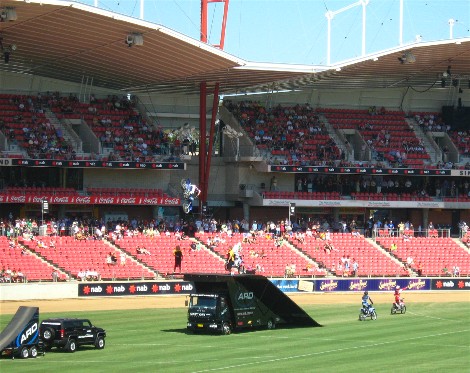 It did have farm animals like goats, chickens, pigs, birds, llamas? They were so cute but they must have been so hot inside the big building!

It had big displays about farming technology, natural resources and CSIRO agricultural research, but when we tried to talk to the people running these stalls, they'd all just been hired to hand out leaflets and didn't know their wheat from their barley!!! Very frustrating!


The cakes were amazing!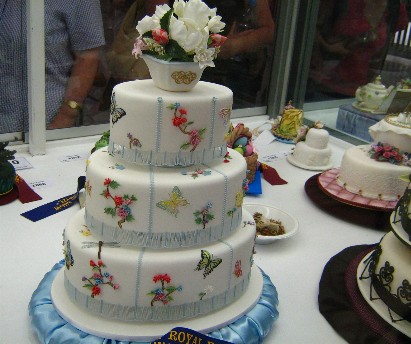 It had a big display of fruit and veg in the shape of pictures and hundreds of paintings, cakes and bits of knitting all entered into the craft competition. Some of the cakes were amazing, but it was all behind glass cases.

The one thing that the Easter show had that the UK Royal show didn't have was all the rides. Even I was too chicken to go on some of them - and I love fairground rides! Sydney also had big shows in the main ring - we saw boys doing tricks on motorbikes.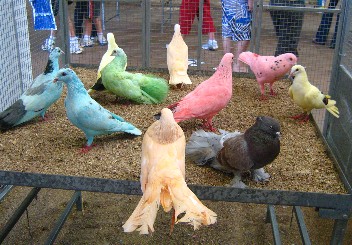 It didn't take long before we were hot, bored and fed-up of all the walking and trying to work out what was on where! Everything seemed to be geared to making you buy stuff or eat stuff! It's all fairground rides and fast food!


Showjumping...wish we knew what was happening!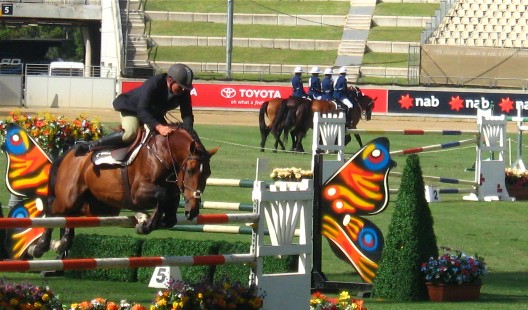 The agricultural show part of it is really only for those entering it, visitors were sidelined and not able to be involved like we were in England. We'd never have thought a show all about farming would interest us, but the English Royal Show had us wanting to do it all over again... but next time in a raincoat and wellies!

To sum-up. The Royal Show was very English and the Easter Show was very Australian!

The Royal Show was about quality and the Easter Show was about quantity.

Everyone is different though and there'd be loads of kids who'd prefer a fair ride to being licked by 50 different breeds of cows.

What we loved about the English Royal Show was getting to speak to farmers and seeing all the wonderful crafts and learning about the different breeds.

To find out more about the Stoneleigh Royal Show go to: www.royalshow.org.uk

To find out more about the Sydney Royal Easter Show go to: www.eastershow.com.au

Thanks to the Sydney Royal Easter Show and Stoneleigh Royal Show

By Imogen Wadlow