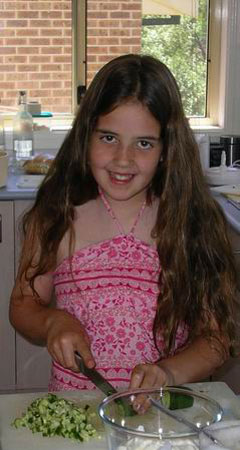 I'm 12 years old and am enjoying high school. It was hard giving up my places at the Conservatorium and a Selective School but I'm having a great time and don't feel I've missed out.

I play flute and harp. I have two flutes, one is solid silver but this doesn't seem to make it sound any better! My harp was made for me by my grandad - it takes forever to tune! My parents are having to buy me a pedal harp (those big ones you see in orchestras) It's going to cost an absolute fortune!

I'm the youngest member in the Symphony of the Northern Sydney Youth Orchestra (apart from Immie who is 10 minutes younger). One of the things I love to do the best is drawing and painting and any other sort of art....and playing soccer!

I also love randomly dancing to music - I like mostly the same bands and singers as Immie and a lot more, like Fergie and Nickelback.

My favourite animals are horses and all marine life. The best holiday we had was when we went over to Kangaroo Island and saw the Fur Seals and Sea Lions. It's a great place to visit but a bit wild. My dad reckoned he got bit on the foot by a shark and the 'shark' gets bigger each time he tells the story! My favourite show on TV is Channel V.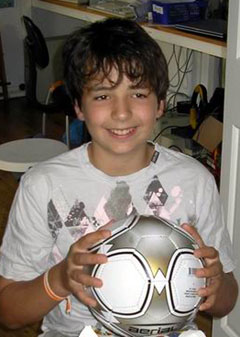 Hi, my name is Alastair I'm 14 years old and in Year 9.
I like:
SOCCER
Computer Games
Riding my bike
Messing around in the pool
Playing my instruments (Piano and percussion,)
Ski-ing
Incredibly sour lollies
Annoying my sisters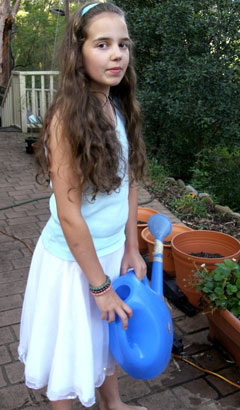 I'm 12 years old...and just 10 minutes younger than my twin sister Freya. I play the viola and piano - I used to play violin but always hated it, but I love my viola except it makes my shoulder hurt. I have just been placed in the Symphony at the Northern Sydney Youth Orchestra. I also do Irish Dancing which is fun and keeps me fit(ish).

My favourite animals are frogs and dolphins. It was mostly my idea to build the frog pond and I have loved seeing all the tadpoles and hearing the 'bok' of our frogs. They sound like someone hitting a baseball rather than a 'croak'. The noise drives my sister mad and now she really hates the frogs. I like loads of different bands and singers like Panic! At the Disco, My Chemical Romance, JoJo, The Killers (I love Bones!) and Stephanie Macintosh. My favourite t.v shows would have to be 'Sabrina the Teenage Witch (Salem is cute!), Million 2 One and Men in White. I've just started high school and I love it. My teachers are brilliant - even though my history teacher freaked us all out with lessons on Jack the Ripper. I like every subject we study. I'd love to see everyone not litter so much, swear less and STOP FOGGING-UP THE TOILETS WITH SMOKE!

We set up 'Planet Patrol' because we believe that kids really aren't getting enough info on the environment. Without that information, they can't make good choices about the environment and we need kids to be making good choices as this will affect the health of our planet. We would very much like people to send us e-mails on our website telling us what they would like to know or do. The most important environmental issue to me would have to be whaling. So of course I think that the work that organisations like Greenpeace do is just brilliant.