Games

Yes, we're working on making your favourite website (of course we are!) even better with some great games.

Planet Patrol recently won the Foundation for Australian Youth 'Sparks' Award. Which is brilliant!

If you haven't yet left us feedback in our guestbook, then you should, because it was comments such as 'great website, but where's the games?' that actually got us to apply for funding just to get some games happening on Planet Patrol.

We recently had a holiday in the UK and Europe. One of the best things that happened was that we got to meet Lynn Gibson, the lovely, brilliant and creative wonder who uploads all our website stuff and sticks it in the right place for you. Lynn lives in England and without her we don't know what we would have done! She has enormous cats, a lovely family, beautiful garden and cooks a brilliant lasagne. She also is very skilled at beading which takes a huge amount of time and patience and is the best we have EVER seen.

Keep checking back or send an email to: theteam@planetpatrol.info with 'Games' in the subject line and we'll make sure we tell you when we have new games.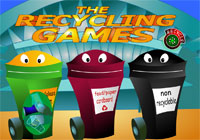 The Recycling Games

by circul8

Do you know your aluminium from your avocados? Do you know which bin to put your takeaway container in? This great recycling game can help you find out! Click the image on the left to play the game.